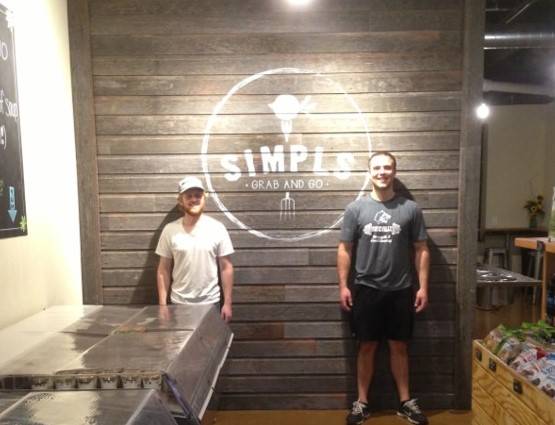 This is Mike and Ryan, Co-Founders of Simpls, at our first market location in Downtown Minneapolis on opening morning, September 8th, 2014 at 5:00a.  No sleep, putting on the final touches before opening to the public. What a journey it has been for our small business. For those new to our story, Simpls, dreamed up as the quirky child of 7-Eleven and Whole Foods, grew to 3 market locations in Minneapolis from 2014 to 2020 and a team of 28 awesome people. We built the business with a vision to make delicious, wholesome and healthy foods accessible on the go. It all came crashing down in March 2020 with the Coronavirus surging in the community.  
We temporarily closed all three locations for safety and have not reopened any since; commuting was the source of our customer base and has yet to resume. We went from three market locations, a solid catering and wholesale business, down to zero dollars in sales, overnight.   A devastating scenario for a small business and our fantastic team. Everyone lost their jobs, including Mike and Ryan. But, our team is amazingly brilliant and resilient! Two weeks later we launched our online soup business. For every quart of soup you buy for delivery to your door, we donate a bowl of soup to healthcare workers or community members in need! Our vibrant soup is scratch-made using local, organic and sustainable ingredients.
Our new soup business looks a lot different from our model less than a year ago, but the goal is the same - make eating delicious, wholesome, healthy food easy! And while we're at it, we will do as much as we can to help people and the planet. By this coming March, we have an audacious goal to build our new business back stronger than it was in March 2020. Thanks to you and your support, we've already restored 12 of our 28 jobs and we hope to restore the rest by this coming March!
We've witnessed and received extraordinary generosity, care and love through this pandemic and it gives us so much hope. We've never felt better about the future of our small business and the opportunity that lies ahead for us all to make a positive difference in the world together. Thank you for reading our story and being a crucial part of our journey. Below is a list of ways you can continue to help us on Small Business Saturday!
Ways you can continue to help:
Sign up for a soup subscription for ongoing delicious soup glory!

Send your friends a gift to introduce them to our soup!

Buy gift cards! For you, your family, or friends.

Please like and share our story!

 
Examples of the direct impact you've had spending small and local with us:
 
Community giving.  We donate a bowl for every quart purchased! Since March, we've donated over 7,000 bowls of soup to healthcare workers and neighbor's facing food insecurity. Your purchases are directly making a positive impact on two of the biggest issues caused by the pandemic.
 
Good local jobs.  You're helping rebuild our team and we care about our people. All team members earn a living wage of at least $15 per hour and get paid time off! And we in turn, buy as much local produce as possible when it's in season. Supporting responsible local growers supports good jobs in their communities and stimulates their surrounding local economy. It's a beautiful chain reaction from a simple purchasing decision!
 
Climate.  The more we buy locally, the fewer emissions from moving stuff around the country and world. In addition, we buy from growers working to solve the climate crisis through soil health and regenerative practices.
Thank you again for your support and for supporting other small local businesses, your dollars make an enormous difference!
Simpls