Simpls is your way to get easy, delicious, and sustainable meals delivered right to your door!
Our food is made with nutrient-dense ingredients sourced from small local farms that support organic and regenerative practices. Beyond our food, we intend to be a community partner that considers all stakeholders and work to positively impact people and the planet. And to help create a healthy, regenerative, and equitable food system.
Why is Simpls so awesome?
Simpls mission is centered around healing people and the planet. We prioritize the sustainability of our world while still feeding people nourishing food. We offer a variety of scratch-made soups, hand-tossed pizzas, local breads, and baked goods. Simpls combines high quality with convenience, so you don't have to compromise when life gets busy!
---
How do you source your ingredients?
We source our ingredients from small, local Midwest farm partners that use sustainable, organic and regenerative growing practices, working in harmony with the natural world. They believe in paying fair wages for all workers as well.
What if I am not happy with my order?
We have a 100% delicious guarantee! We set a high bar for deliciousness, but if we do not meet yours, let us know and we will make it right.
Where can I find your nutritional information?
On each individual product page, there are multiple images to look at. Within these you can find the product label that includes nutritional information and ingredients. 
---
To place an online order, explore our products online and navigate to your cart to go through the checkout process. (You must have $40 or more worth of products in your cart to make a purchase) 
There is a delivery charge of $10 for orders $40- $75. Delivery is free for orders over $75. 
Ready for more? Start a subscription to receive 10% off plus other goodies on your regular deliveries.
Simpls is 100% online. We do not have any physical stores. At this time orders can only be delivered by our team straight to your door from our website. 
---
We deliver to the Twin Cities and surrounding suburbs. If you reside in the blue highlighted area below, hurray, we deliver directly to your doorstep!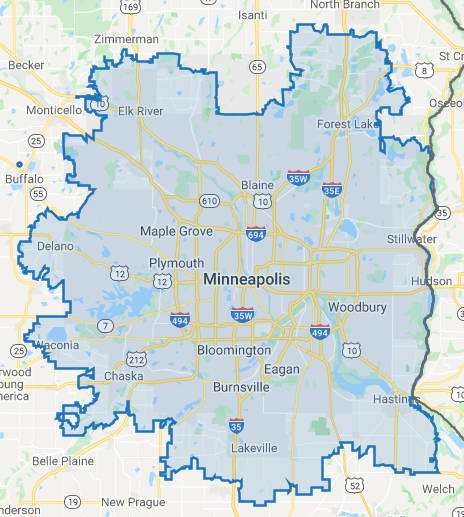 Still not sure?
Search for your zip code below to see if we deliver to you.
Our drivers deliver straight to your doorstep. Deliveries happen between 9am-6pm Monday through Thursday. The day before your selected delivery day you will get a text with an ETA tracking link. The goods will come frozen to ensure quality and safety.  
We practice no-contact delivery, so there is no need to greet your delivery-person at the door. If you have any special delivery notes for our delivery team, be sure to include them at checkout. (Example: Please ring the doorbell.) After delivery, you will be notified by text that your order has arrived. 
What does my order get delivered in?
At checkout, we offer customers 3 options for delivery:  
1. Place a container or cooler out for their order to be placed in (Free)
2. An insulated Simpls bag ($3.50)
3. An insulated Simpls bag with 2 reusable ice packs ($6.00) 
I forgot to put out my cooler/container. What will happen?
No worries! Our delivery drivers will place your order in one of our paper grocery bags if you forget to leave a cooler or container out.  
Will my order spoil in hot or cold weather?
At checkout, you will be asked to select a delivery method. If you will not be home or are worried about hot weather, you have the option to have your order delivered in an insulated bag with ice packs.  
---
Why should I start a Simpls Subscription?
Simpls Subscribers get regular deliveries of delicious soups and pizzas on a set frequency. Sign up now today!
Great deals!  
10% off EVERY order, free delivery for orders over $30 (instead of the usual $75), free seasonal products, and a delivery frequency that suits you best. 
0 Commitment.  
It costs NOTHING to sign up and can be cancelled or paused for any amount of time. 
Local Business  
Support a local Minneapolis company, try delicious scratch-made foods, up the convenience factor in your day-to-day cooking, and nourish yourself and others in your life!
---
How do the fundraisers work?
Our fundraisers are easy and fast! We provide all the tools and materials for you to have a successful fundraiser over a 4-week period. Your friends and family purchase products through our website and we do the delivery! At the end of the fundraising period, your organization will receive a check for the amount earned.
How do I make my order count towards my fundraiser?
At checkout, please enter your organization's code in the promo/fundraiser code box. It will display a $0 discount applied, don't worry, the amount your organization raises is calculated at the end of the fundraiser.